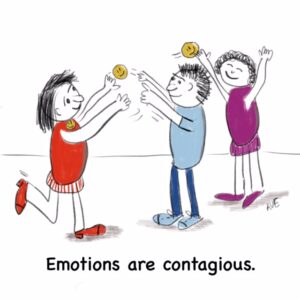 Research has demonstrated that emotions are contagious. Within milliseconds, our bodies are picking up others' emotions. When we sense that someone is open or closed, we tend to react similarly. Your openness or closed-mindedness can spread to others and influence the climate. You may have experienced the contagious nature of emotions at a gathering of people. If you walk into a room where people are in conflict, you will likely sense a heaviness. On the other hand, if you walk into a space where people are in a positive mood and enjoying each other, you are likely to feel more upbeat and light. We pick up the emotions of others in a matter of milliseconds, and it can be unconscious.
When judging, we experience the classic fight, flight, freeze, or appease adrenaline reaction to a perceived threat. Our older brain structure and limbic system, which are the human brain's emotional parts, immediately react to potential danger. This happens even before the neocortex, the brain's thinking section, can register the perceived threat and provide rational input. Our reaction occurs so quickly that it appears automatic, so we may not be immediately aware of it. That's why it is useful to get to know our predominant sensation signals and understand when we are closed to new information.
It's important to recognize our impact as leaders and to take an Open Stance. We can do this by engaging in practices such as grounding and being present, being optimistic about what is unfolding, being grateful and being curious and compassionate. When we recognize that emotions are contagious we can influence those around us.  
– Excerpted from the forthcoming book, Open Stance: Thriving Amid Differences and Uncertainty