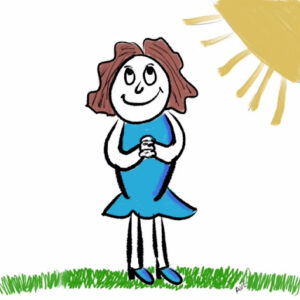 I have wondered, can I dare to be joyful when faced with so many world challenges–conflicts, climate changes, systemic racism, health crises and geopolitical tensions?
Much of my life I believed that I should not experience joy when others around me were suffering. I don't think it served me and others to be worried and stressed.
It is the human condition that we face challenges. We grow as we work through the obstacles. Rather than strive to be right, we need to become comfortable with the uncertainty and not knowing.
I have come to believe that we need to lead with joy and openness. Emotions are contagious. If we are stressed, judgmental and contracted, we literally are limited in the opportunities we see. However, when we model being joyful and open, we see possibilities and inspire others to be open to possibilities and creativity. 
My colleague and I are defining JOYBeing as the state of being that allows us to experience the moment and supports us in the moment to move forward. It is a feeling of wellbeing and aliveness–a felt sense or sensation in the body. We feel connected with ourselves and resources and enabled to take purposeful action. JOYBeing is experienced when we are at peace with who we are and we allow our authentic self to guide our actions.
JOYBeing is not an outcome;  it is a way of being. If it becomes an outcome for us, we always run after it and we lose the moment.  We are in choice all the time and we can choose how we respond to the moment.  When we intentionally choose openness and joy we experience more fulfillment and aliveness. We are then open to explore options for the challenges and together co-create solutions. We need joy now more than ever. Of course, this does not mean we are uncaring or disrespectful to the many needs. When we are experiencing JOYBeing, we have more energy to give to others and tackle the challenging issues before us.
A first step to cultivate JOYBeing is to begin to notice the small moments of joy in your day. For example, you may enjoy a walk in nature, a greeting from a friend and a cup of tea. Notice how you approach life and others from this joyful and open state.